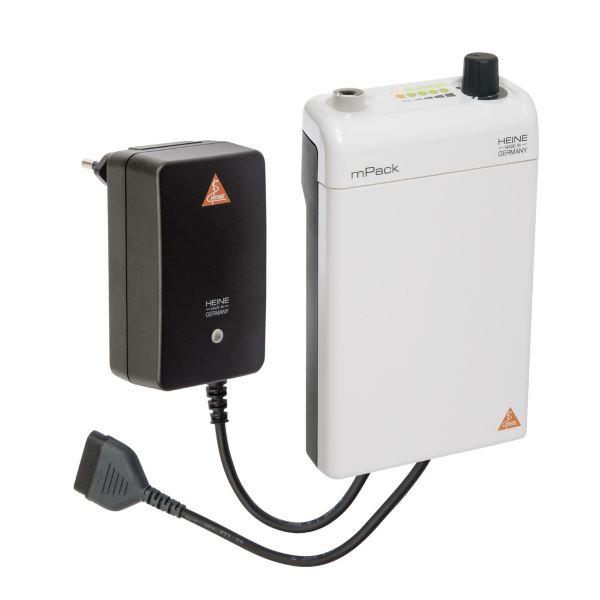 Login for Pricing
Heine mPack With Plug-in Transformer
Freedom from cables that tie the user to a desk, wall or static power supply.
Triple the Capacity with Li-ion Technology. Compared with current NiCd systems. When fully charged at least 3 times the capacity of conventional NiCd systems. More than double that of other Li-ion systems. No memory effect.
Fast Charge. Charges to full capacity in approximately 2 hours.
Charge status indicator. Always lets you know how much operating charge you have left.
Operating time: Approximately 8.5 hours for ML4 LED HeadLight, typ. 4 hours for OMEGA 500, typ. 13 hours for OMEGA 500 with LED.
Flexible Charging Options. Charge in the EN 50 Charger base station, or with mobile plug-in transformer.
Intelligent. Automatically switches to "charge" mode when inserted in EN 50. Can also be used as the main power supply even while in "charge" mode.
Automatic remote power adjustment for compatibility with all HEINE 6 V and selected LED instruments.
Stepless light intensity control 0.5 – 100 %. The optimum brightness setting prevents reflexes.
100 – 240 V Compatible Transformer incl. 4 plugs for worldwide compatibility.
Login