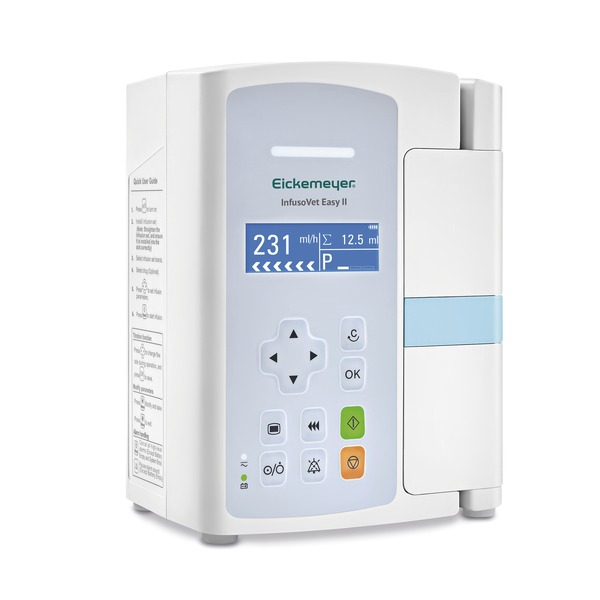 Login for Pricing
InfusoVet Easy II Infusion Pump
The EICKEMEYER® InfusoVet Easy II is a programmable infusion pump that combines safety, performance and reliability.
– LCD display with backlight
– Intuitive operation with colored, clearly arranged buttons and quick guide on the screen
– User-friendly through simple programming
– High patient safety through audible and visual alarms (in case of air bubble, blockage, empty battery, end of infusion)
– Embedded handle for easy transport
– With clamp for IV pole
– Can also be used for blood transfusion
The InfusoVet Easy II Infusion Pump can be used with EICKEMEYER® Infusion lines (4802107) or can be calibrated to the lines of your clinics choosing. The purchase of the InfusoVet Easy II Infusion Pump comes with your choice of either a box of 100 EICKEMEYER® Infusion lines or the calibration.
Technical Specifications
– Flow rate: 0.1 up to 1500 ml / h
– Accumulated volume: 1 – 9999 ml
– Bolus rate from 0.1 to 1500 ml / h
– Mains and battery operation, battery life up to 4 hours
– Alarm volume and alarm sound adjustable
– Dimensions (in cm): W 14.6 x H 19.3 x D 9.5
– Weight: 1.6 kg
Additional Accessories
– IV Infusion Line Eickemeyer (4802107)
– IV Extension Set (4804401)
– Cage Mount Bracket for IV Infusion Pumps (4809869)
Login