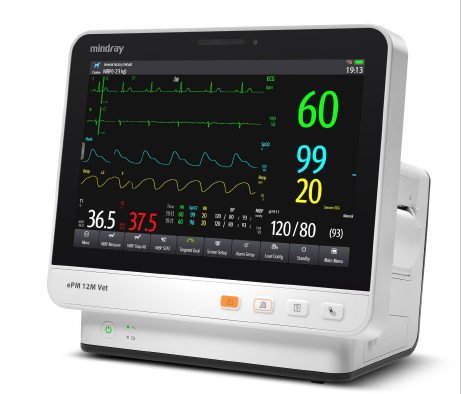 Login for Pricing
Mindray ePM12 Vet Multiparameter Monitor
Veterinary monitor with Touchscreen Nellcor SP02 technology ePM 12M Vet supports advanced parameters with excellent and accurate performance. Innovative CrozFusion technology can provide continuous and stable performance during environmental interference. Non-invasive testing of vital signs.
Precise algorithms
NIBP: Veterinary-specific; weak-signal tolerant and anti-interference algorithm.
ECG: Multi-lead analysis algorithm, a patented Mindray Exclusive.
SpO2: Low perfusion and anti-motion algorithm.
The innovative design of lifting handles and flexible expansion.
Supports advanced parameters: CO2, 4-IBP, C.O., AG, O2
CO2:Artema technology, with 30 years of technical expertise.
ETCO2 is available as an add-on for this model. (#5001004)
We strongly recommend using the LifeVet Scavenging Kit (321881) for the discharge of used measuring gas when using the monitor with anaesthetic gas.
Warranty:
Three years for monitors
Ninety days for parts
Login