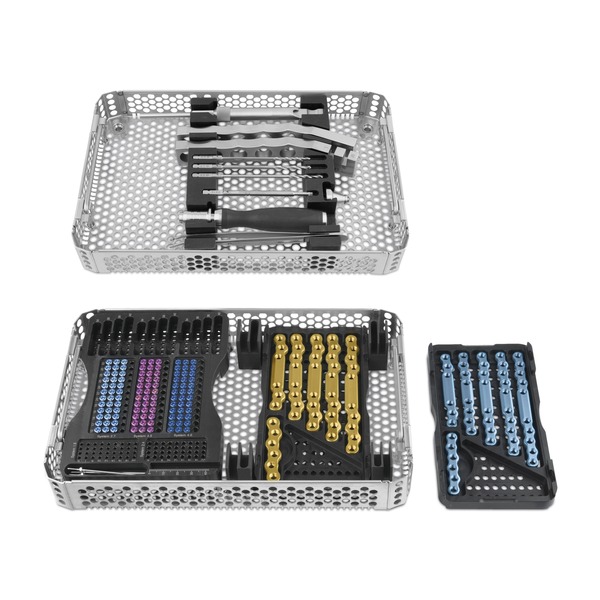 Login for Pricing
Eickloxx Large Set Complete Kit
The newly developed EickLoxx Large is an angle-stable osteosynthesis system for dogs with a weight of approx. 15 – 45 kg.
Just like the EickLoxx Small, the system is characterized by a multi-axial placement of precisely shaped screws and therefore combines the advantages of angle-stable systems and the possibility of screwing in screws at an angle of up to ± 15 °. Like the EickLoxx Small, the EickLoxx Large offers the advantage of rapid fracture healing with improved implant strength. It is for this reason that the removal of screws and plates is rarely indicated.
The biologically advantageous titanium S-shaped plates are available in eight different sizes. Thanks to special tools, the plates can be bent on all three planes. The long 12- and 14-hole plates as well as the long 34 to 40 mm screws (2.7 / 3.5 / 4.0) are not included in the basic set and can be added if required. Both plates can be integrated into the implant tray. There is space in the implant tray for the long plates and capacity for the module for the long screws in the instrument tray.
Characteristics
The EickLoxx bone plates minimize contact with the periosteum and thus reduce the iatrogenic load on the bone perfusion, as is common with conventional compression plates
Maintaining perfusion significantly reduces the risk of infection and accelerates bone healing
Resistance to infections is also increased by the biocompatibility of titanium and the lack of fretting
Biological benefits
Reduces damage to the vascular supply
Increased resistance to infection
Accelerated healing
Complete set, consisting of:
187731 – EickLoxx Large Instruments – tray without instruments
187732 – EickLoxx Large implants – tray without implants
187733 – EickLoxx Large screws – implants – module 10-32mm without screws
187728 – EickLoxx large Yellow – plate – implants – module empty
187729 – EickLoxx large lite blue – plate – implants – module empty
185555 – Container 310x190x130mm complete bottom non-perforated lid perforated grey
Instruments included:
185509 – Twist drill 2.0mm AO quick coupling
197735 – Twist drill 2.5mm AO quick coupling
187736 – Twist drill 2.9mm AO quick coupling
185511 – Screwdriver blade Torx 10 90mm, not Cannulated AO quick coupling
185513 – Drill guide funnel 2.7 / 3.5 / 4.0
185514 – Plate and screw holding forceps stainless steel
185515 – Silicone screwdriver – handle 12cm; 4 3/4 " AO quick coupling Cannulated
187737 – Depth gauge 50mm probe 1.3mm
185506 – EickLoxx bending levers pair
185516 – Plate positioning pin 1.4 x 63mm
Instruments not included in EickLoxx Large set optional:
187727 – EickLoxx Large screws – implants – module 34-40mm without screws
Bone Plates:
187740 – EickLoxx S-Type bone plate 6 hole 58 x 8 x 3.2mm titanium Light Blue
187741 – EickLoxx S-Type bone plate 8 hole 78 x 8 x 3.2mm titanium Light Blue
187742 – EickLoxx S-Type bone plate 9 hole 88 x 8 x 3.2mm titanium Light Blue
187743 – EickLoxx S-Type bone plate 10 hole 98 x 8 x 3.2mm titanium Light Blue
187744 – EickLoxx S-Type bone plate 11 hole 108 x 8 x 3.2mm titanium Light Blue
187745 – EickLoxx S-Type bone plate 12 hole 118 x 8 x 3.2mm titanium Light Blue
187750 – EickLoxx S-Type bone plate 6 hole 60 x 11 x 4.5mm titanium gold
187751 – EickLoxx S-Type bone plate 8 hole 80 x 11 x 4.5mm titanium gold
187752 – EickLoxx S-Type bone plate 9 hole 90 x 11 x 4.5mm titanium gold
187753 – EickLoxx S-Type bone plate 10 hole 100 x 11 x 4.5mm titanium gold
187754 – EickLoxx S-Type bone plate 11 hole 110 x 11 x 4.5mm titanium gold
187755 – EickLoxx S-Type bone plate 12 hole 120 x 11 x 4.5mm titanium gold
Bone Plates Additional Sizes :
187746 – EickLoxx S-Type bone plate 14 hole 138 x 8 x 3.2mm titanium Light Blue
187747 – EickLoxx S-Type bone plate 16 hole 158 x 8 x 3.2mm titanium Light Blue
187756 – EickLoxx S-Type bone plate 14 hole 140 x 11 x 4.5mm titanium gold
187757 – EickLoxx S-Type bone plate 16 hole 160 x 11 x 4.5mm titanium gold
187727 – EickLoxx Large screws – implants – module 34-40mm without screws
Titanium Locking Screws:
185535 – Titanium locking screw 2.7x 10mm multidirectional blue Torx 10 self-drilling self-tapping
185536 – Titanium locking screw 2.7x 12mm multidirectional blue Torx 10 self-drilling self-tapping
185537 – Titanium locking screw 2.7x 14mm multidirectional blue Torx 10 self-drilling self-tapping
185538 – Titanium locking screw 2.7x 16mm multidirectional blue Torx 10 self-drilling self-tapping
185539 – Titanium locking screw 2.7x 18mm multidirectional blue Torx 10 self-drilling self-tapping
185540 – Titanium locking screw 2.7x 20mm multidirectional blue Torx 10 self-drilling self-tapping
185541 – Titanium locking screw 2.7x 22mm multidirectional blue Torx 10 self-drilling self-tapping
185542 – Titanium locking screw 2.7x 24mm multidirectional blue Torx 10 self-drilling self-tapping
185543 – Titanium locking screw 2.7x 26mm multidirectional blue Torx 10 self-drilling self-tapping
185544 – Titanium locking screw 2.7x 28mm multidirectional blue Torx 10 self-drilling self-tapping
185545 – Titanium locking screw 2.7x 30mm multidirectional blue Torx 10 self-drilling self-tapping
185600 – Titanium locking screw 2.7x 32mm multidirectional blue Torx 10 self-drilling self-tapping
185570 – Titanium locking screw 3.5x 10mm multidirectional Magenta Torx 10 self-drilling self-tapping
185571 – Titanium locking screw 3.5x 12mm multidirectional Magenta Torx 10 self-drilling self-tapping
185572 – Titanium locking screw 3.5x 14mm multidirectional Magenta Torx 10 self-drilling self-tapping
185573 – Titanium locking screw 3.5x 16mm multidirectional Magenta Torx 10 self-drilling self-tapping
185574 – Titanium locking screw 3.5x 18mm multidirectional Magenta Torx 10 self-drilling self-tapping
185575 – Titanium locking screw 3.5x 20mm multidirectional Magenta Torx 10 self-drilling self-tapping
185576 – Titanium locking screw 3.5x 22mm multidirectional Magenta Torx 10 self-drilling self-tapping
185577 – Titanium locking screw 3.5x 24mm multidirectional Magenta Torx 10 self-drilling self-tapping
185578 – Titanium locking screw 3.5x 26mm multidirectional Magenta Torx 10 self-drilling self-tapping
185579 – Titanium locking screw 3.5x 28mm multidirectional Magenta Torx 10 self-drilling self-tapping
185580 – Titanium locking screw 3.5x 30mm multidirectional Magenta Torx 10 self-drilling self-tapping
185581 – Titanium locking screw 3.5x 32mm multidirectional Magenta Torx 10 self-drilling self-tapping
185590 – Titanium locking screw 4.0x 10mm multidirectional blue Torx 10 self-drilling self-tapping
185591 – Titanium locking screw 4.0x 12mm multidirectional blue Torx 10 self-drilling self-tapping
185592 – Titanium locking screw 4.0x 14mm multidirectional blue Torx 10 self-drilling self-tapping
185593 – Titanium locking screw 4.0x 16mm multidirectional blue Torx 10 self-drilling self-tapping
185594 – Titanium locking screw 4.0x 18mm multidirectional blue Torx 10 self-drilling self-tapping
185595 – Titanium locking screw 4.0x 20mm multidirectional blue Torx 10 self-drilling self-tapping
185596 – Titanium locking screw 4.0x 22mm multidirectional blue Torx 10 self-drilling self-tapping
185597 – Titanium locking screw 4.0x 24mm multidirectional blue Torx 10 self-drilling self-tapping
185460 – Titanium locking screw 4.0x 26mm multidirectional blue Torx 10 self-drilling self-tapping
185461 – Titanium locking screw 4.0x 28mm multidirectional blue Torx 10 self-drilling self-tapping
185462 – Titanium locking screw 4.0x 30mm multidirectional blue Torx 10 self-drilling self-tapping
185463 – Titanium locking screw 4.0x 32mm multidirectional blue Torx 10 self-drilling self-tapping
Additional Screw Sizes Available:
185601 – Titanium locking screw 2.7x 34mm multidirectional blue Torx 10 self-drilling self-tapping
185602 – Titanium locking screw 2.7x 36mm multidirectional blue Torx 10 self-drilling self-tapping
185603 – Titanium locking screw 2.7x 38mm multidirectional blue Torx 10 self-drilling self-tapping
185604 – Titanium locking screw 2.7x 40mm multidirectional blue Torx 10 self-drilling self-tapping
185582 – Titanium locking screw 3.5x 34mm multidirectional Magenta Torx 10 self-drilling self-tapping
185583 – Titanium locking screw 3.5x 36mm multidirectional Magenta Torx 10 self-drilling self-tapping
185584 – Titanium locking screw 3.5x 38mm multidirectional Magenta Torx 10 self-drilling self-tapping
185585 – Titanium locking screw 3.5x 40mm multidirectional Magenta Torx 10 self-drilling self-tapping
185464 – Titanium locking screw 4.0x 34mm multidirectional blue Torx 10 self-drilling self-tapping
185465 – Titanium locking screw 4.0x 36mm multidirectional blue Torx 10 self-drilling self-tapping
185466 – Titanium locking screw 4.0x 38mm multidirectional blue Torx 10 self-drilling self-tapping
185467 – Titanium locking screw 4.0x 40mm multidirectional blue Torx 10 self-drilling self-tapping
Login