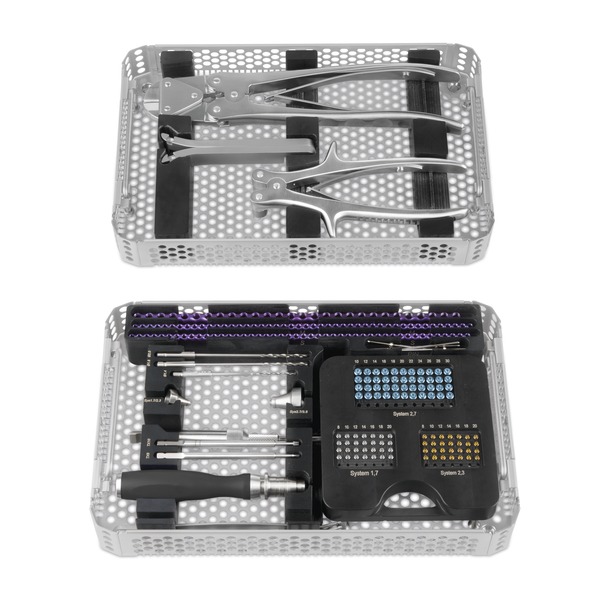 Login for Pricing
EickLoxx Small Osteosysnthesis Complete Kit
The EickLoxx Small is a polyaxial locking kit for dogs and cats up to 15 kg.
The system distinguishes itself through the polyaxial placement of the custom-fit screws, combining the advantages of a locking plate system with polyaxial screw placement in +-15° longitudinal and transverse pivoting.
Compared to conventional osteosynthesis systems, the use of internal fixation locking systems (internal fixation) such as the EickLoxx Small facilitates faster healing of fractures and improved implant strength. It is for this reason that the removal of plates and screws is rarely indicated.
The biologically advantageous Titanium plates are available in three sizes, can be cut to the desired length and be bent in three planes. Specially designed tools are included to perform this. The titanium also reduces artifacts in post-operative imaging. The 46/41-hole bone plates can be locked in combination with 1.7 mm and 2.3 mm screws. The 28-hole bone plate can be locked with either 2.7 mm or 3.5 mm screws from the EickLoxx Large or the EickLoxx TPLO system.
EickLoxx Small is a modular system. All implants and instruments are made in Germany using only the highest quality materials.
Login