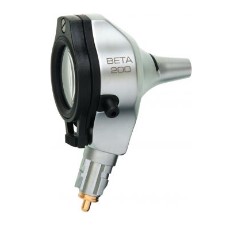 Login for Pricing
Heine® BETA 200 F.O. Otoscope Head
The otoscope has been designed with an all metal housing and scratch resistant glass lenses which guarantee a lifetime of maintenance-free use. Maintenance-free for a lifetime.
3 x magnification. The multi-coated glass viewing window offers high resolution and distortion-free images.
Fiber optic illumination. Ensures homogeneous, very bright illumination and an unobstructed view of the ear canal and tympanum.
Patented, unique, stepless dimming from 3 % to 100 % with practical one-finger operation.
Viewing window is permanently attached, and swivels for instrument use and complete cleaning of the instrument head.
Integrated insufflation port offers tympanic mobility testing without air leakage.
Login