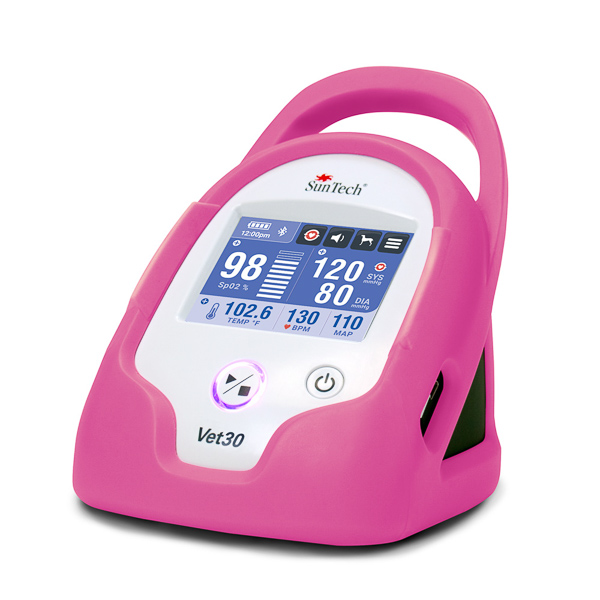 Login for Pricing
SunTech Vet30 Blood Pressure Monitor
The portable and rechargeable SunTech® Vet30 monitor quickly and easily provides reliable blood pressure (BP), oxygen saturation (SpO2), and temperature measurements. Intervals can be set to automatically take BP readings during a monitoring period. Utilizing SunTech's trusted AdvantageTM VET BP technology, the SunTech Vet30 quietly performs motion-tolerant BP measurements, delivering accurate BP results and continuous measurement of temperature and SpO2.
Includes: SpO2 sensor, temperature probe, protective cover, Li-ion rechargeable battery and 6 SunTech BP cuffs.
Simple to use: Intuitive, color, touch screen interface.
Accurate: BP algorithm was specifically developed for companion animals by experts at a leading Veterinary teaching facility.
Continuous Monitoring: Monitoring during procedures is simple with user defined intervals for BP measurement.
Portable: Rechargeable Li-ion battery-operated device can be easily transported.
Rechargeable: Battery recharged when device is plugged into AC power, reducing disposable battery waste.
Memory: Up to 960 data points are retained, even when device is powered off. Users can select specific measurements from device memory and perform automated BP averaging.
Data Transfer: Data can be transferred to a data trending and reporting software application for a PC using Bluetooth. Use the PC application to export reports in either PDF or CSV format.
Login