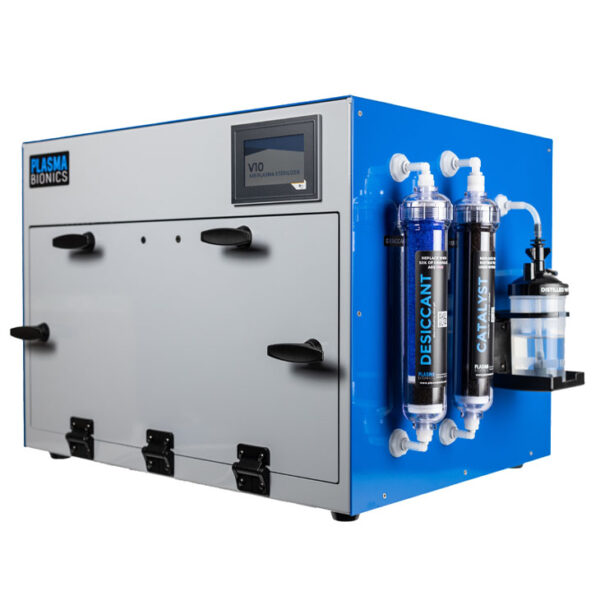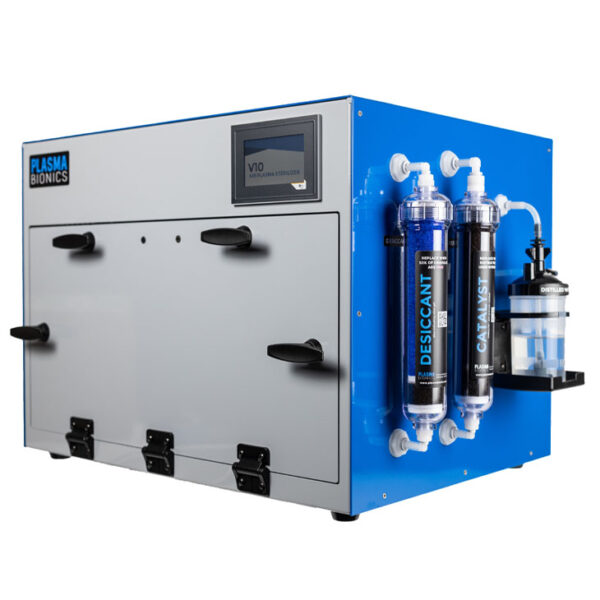 Login for Pricing
V10 Air Plasma Sterilizer
The V10 Air Plasma Sterilizer uses just air and electricity to sterilize critical veterinary instruments.
The proprietary Air Plasma Sterilization® process produces multiple reactive oxygen and nitrogen species from air that rapidly destroy microorganisms on instrument surfaces. The sterilant gases are converted back into harmless air once sterilization is complete.
The Ideal Alternative to Ethylene Oxide.
Safely and easily sterilize critical instruments at least 3 times faster than ethylene oxide, increasing productivity and throughput.
By eliminating the need for high temperature, vacuum, high pressure, and harmful chemicals, the V10 Air Plasma Sterilizer provides a safe, intuitive, and environmentally friendly solution for veterinary instrument sterilization.
Redefining Veterinary Instrument Sterilization
Reduce Operating Costs – low cost per cycle, low maintenance, no installation cost
Safe and Environmentally Friendly – low temperature, no chemical consumables, no harmful byproducts
Sterilize Critical Instruments – surgical electronics, lumen, optics
Dimensions
Exterior: 28.75″ x 18.75″ x 19.25″
Instrument tray : 16″ x 10″ x 4″
Sterilization capacity: 10.5L
Weight: 110 lbs
Electrical requirements" 110-120 VAC, 50/60 Hz, 6 A max
Included Accessories
1 Plasma Sheet (15 cycles)
1 Desiccant Canister (75-125 cycles)
1 Catalyst Canister (200 cycles)
1 Pack of Indicator Strips (250 strips)
One-year warranty included. Extended warranties are available at additional costs.
Login