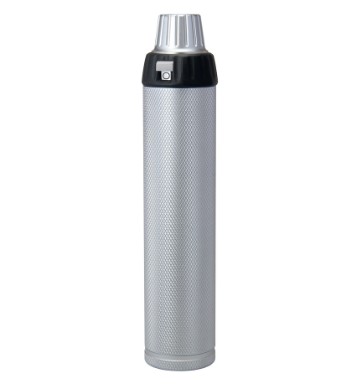 Login for Pricing
HEINE®Beta NT 4 Rechargeable Handle
High-quality metal construction for strength and durability.
Exclusive automatic connector with locking design. No metal-on-metal friction
which can wear out over time, for a secure fit for the lifetime of your instruments.
Deep battery discharge protection: Integrated safety system protects your investment
by preventing batteries from completely draining; thus ensuring maximum battery life.
Familiar brightness control: Rheostat for continuous brightness control with power
level indicator.
Li-ion technology: no "memory effect". Charge your handle how you like without
worrying about charge level or battery condition.
Extended ON time: work typ. 6 weeks between recharging with LED instruments.
Quick charge.
Slightly knurled finish of the handle provides a non-slip grip but is easy to clean and
disinfect.
Charge status indicator in the bottom insert: the indicator shines orange if the battery
needs to be recharged. In the BETA4 USB Handle the indicator blinks green during the
charging process and shines permanently green as soon as it is fully charged.
Login