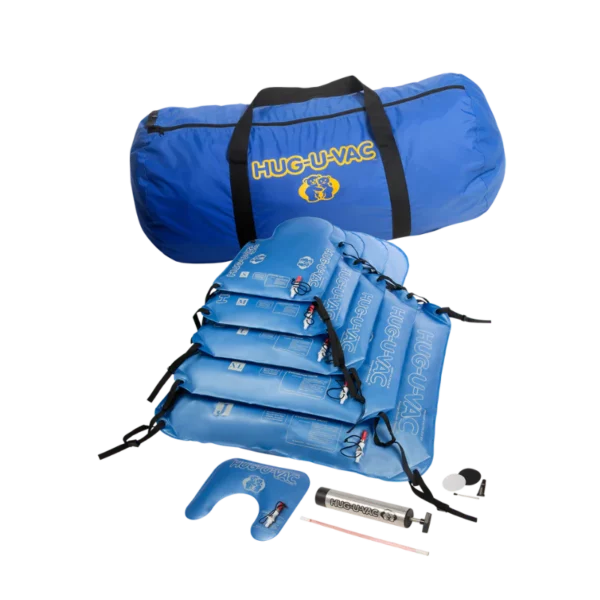 Login for Pricing
HUG-U-VAC Positioner Set
Precise anatomical positioning in seconds. Accommodates any sized animal for any procedure Increased clinical efficiency with fewer people handling animals Safe and secure positioning (dorsal, ventral, and lateral) for pre-op prep, surgery, post-op recovery, imaging (radiolucent).
This Set Includes:
5 HUG-U-VAC Positioners: small, medium, large, extra-large, and jumbo
1 HUG-U-VAC head positioner
1 HUG-U-VAC manual vacuum pump with a vacuum hose
1 HUG-U-VAC storage/transport nylon duffel bag
20 limb restraints
1 patch kit
Product Features: HUG-U-VAC vacuum activation uses inline suction or  HUG-U-VAC Manual Vacuum Pump. Radiolucent and MRI Safe – X-ray, CT, and MRI. An adjunct in preventing Conductive, Convective, and Radiant patient heat loss. Easy to clean. Conforms to anatomical contours. Prevents pressure sores. Evacuation valve – quick on/off air flow – locks to prevent deactivation.
Available in 5 sizes
Sizing Guide
● Small (16″ x 24″) – Puppies, kittens, and similar.
● Medium (20″ x 30″) – Cats, small dogs, and similar.
● Large (24″ x 36″) – Medium and large dogs, goats, sheep, and similar.
● Extra-Large (30″ x 45″) – Large dogs, goats, sheep, and similar.
● Jumbo (36″ x 54″) – Large animals, alpacas, llamas, foals, mini horses, and similar.
This price includes direct shipping to your door.
Login