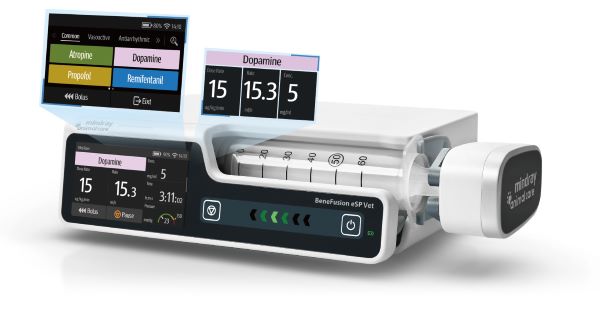 Login for Pricing
Mindray BeneFusion eSP Vet Syringe Pump
This syringe pump has SmartRapid™ which ensures timely infusion by significantly shortening the start-up time, from turning on the pump to delivering the first drop of medication.
Intuitive Interaction
3.5″ Colored capacitive touchscreen brings users an excellent experience with smooth operation.
The intuitive user interface enables quick programming of key parameters, making the workflow process much easier.
Flexible Infusion Adjustment
Easily adjusting the infusion therapy within 3 steps.
Precise Infusion Performance
High accuracy: eSP ±1.8% / eVP ±5%
Long-hour accuracy assured
SmartAIR™
With SmartAIR™, BeneFusion eVP Vet significantly enhances the safety level of IV administration.
Dual ultrasound sensor to detect the air bubbles more precisely, avoiding missing or false air-in-line alarms.
15μl air bubble detection size on BeneFusion eVP Vet, ensuring patient safety throughout the infusion, even for neonates.
Colour Coding
The colour coding of drug names assists users in easily selecting and verifying the correct drug.
Login