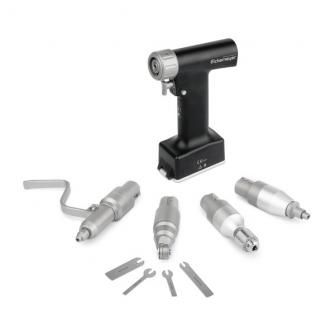 Login for Pricing
OrthoVet PRO Battery Powered Drill System
The ideal tool for small animal osteosynthesis
The OrthoVet PRO is a modular, battery-driven drill system designed for small animal osteosynthesis. The modular system consists of a handpiece and four attachments, which can be changed intraoperatively in just a few seconds with a keyless quick coupling.
The handpiece, the quick-release AO Chuck and the Jacobs Chuck are cannulated. Thus, cannulated screws or drills can also be tracked over long guide wires in stages, without the guide wire having to be shortened. The oscillating saw has a five-fold adjustable, variable fixation of the saw blade and allows the surgeon an optimized view of the surgical field. The AO quick-release chuck completes the system and makes the OrthoVet PRO a real all-rounder.
Handpieces and attachments can be sterilized/autoclaved. The Li-Ion battery is not autoclavable and is inserted into the handpiece by means of a special holder. Continuous operation is possible in clockwise and anticlockwise motion, as well as in oscillation with the aw attachment.
Incl. 4 attachments: Jacobs drill chuck, quick release AO chuck, quick release chuck for KIRSCHNER drill wires, oscillating saw, saw blades
Fully canulated handpiece
Autoclavable
Including 2 Li-Ion batteries with charger, transport case
Technical specifications
Infinitely variable speed: 0 – 1,200 rpm
Oscillation cutting mode: 0 – 16,000 osc / min
Battery charging time: 180 min
Weight (including battery): 933 g
Login