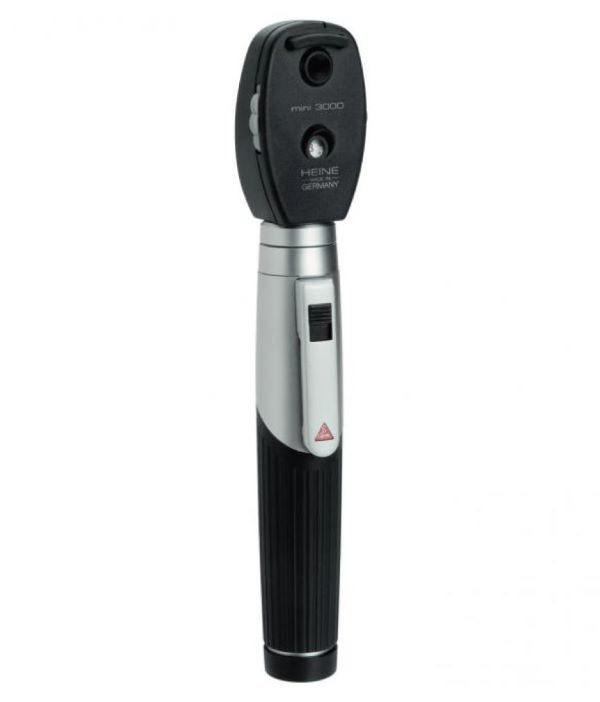 Login for Pricing
Heine®Mini 3000 2.5V Ophthalmoscope
Modern pocket ophthalmoscope in a unique, compact design. Handy and powerful
Compact pocket ophthalmoscope with XHL or LEDHQ illumination Modern pocket ophthalmoscope with concentrated bright light for perfect illumination, a brilliant image and accurate colour rendering.
Fixation star aperture with grey filter for reducing the light intensity.
Excellent optics and best colour rendering in minimum dimensions, ideal for rounds and house calls.
Features for both instruments (XHL and LED): HEINE optics produce crisp, clear images of the whole area under examination and minimize reflections. 5 different apertures. A full-function instrument incl. fixation star.
Grey filter for light-sensitive patients.
Range of lenses: 18 lenses from -20D to +20D. + 1 2 3 4 6 8 10 15 20D – 1 2 3 4 6 8 10 15 20D
Attachment clip with integrated on/off switch. Switches off automatically when returned to the pocket.
Battery handle with replaceable batteries (AA) or optional rechargeable battery with mini NT table charger*
2-piece handle and head. Easy to maintain, flexible
Available in Blue or Black
Case sold separately
Login